Today we officially announced availability of the recordings for DevOpsDays Detroit 2018 are live. Among them are some of the best talks I've heard in a while covering everything from DevSecOps to Chaos Engineering to an audience of almost 300! I'm still high from the new friends I made and DevOps learnings I soaked up. When's the next one???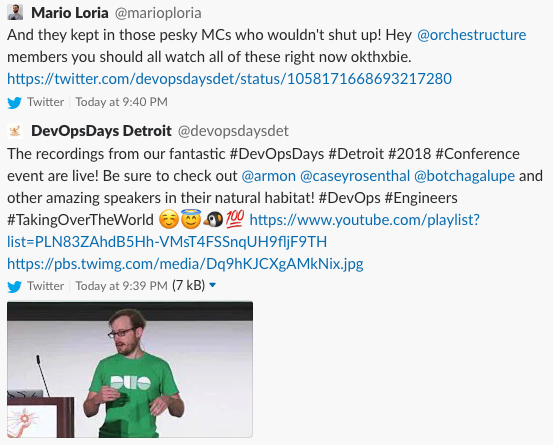 I want to take a moment to thank everyone who co-organized the conference with me, especially Joe Arnet, Dave Barnett, and Archie Cowan, all of whom I worked immensely close with. We were able to wrangle over 10 amazing speakers around a wide variety of topics including DevSecOps, Machine Learning, Service Mesh, and Faultless Systems.
While it took a lot more work than I thought it would, we started relatively early in the year and worked diligently throughout summer to effectively communicate with so many people. From familiar acquaintances, to old friends, even cold emailing/tweeting a few people we'd never met. Everyone was so incredibly acceptant and welcoming throughout this process showing me that DevOps is still going strong with no signs of slowing down!
I'm so immensely happy to be such a big part of this community, especially in southern Michigan where I've met so many awesome people, not just through my own meetup group, but others like AWS Michigan, and A2NewTech. I have so many ideas and inspiration from these offline gatherings where connections with people IRL have made all the difference both personally and professionally.
So get out there, drive some where you've never been to and meet with 25 strangers about something you're passionate about. Trust me, it'll pay off!